Silver is a fantastic choice for evening shoes and evening sandals as they generally match most outfits.
Duchess of Cambridge in Silver Evening Sandals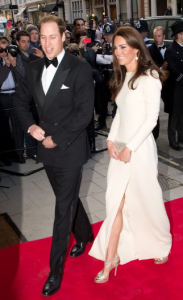 Kate Middleton looks stunning in this cream evening gown teamed with a beautiful pair of silver Jimmy Choo evening sandals.
As always the Duchess of Cambridge manages to balance her outfits between designer and high street and why not buy Jimmy Choo if you have the budget.  Sole Divas has some stunning alternatives to suit most budgets.
Silver Evening Sandals from Sole Divas
Stunning metallic silver strappy sandal with encrusted diamantes & clear gems running up the foot for extra glamour. 3.5″ heel. Also available in gold & brown satin.
Elegant sandal in silver with diamante entwinted with the foot for extra glamour. 3 1/4″ heel & padded insole. Adjustable buckle at the ankle for a great fit.
Stunning silver and diamante ladies evening sandals. Diamante encrusted twisted band across the toes up the foot to add a bit of sparkle to your feet. 8cm heel with padded insole for that extra added comfort while dancing the night away.
Add a little sparkle to your feet with this lovely silver evening sandals with diamante twists across the foot & a buckle fastening at the ankle. 3″ heel with padded insole for extra comfort. The sandals also come with a dust bag for protection. Also available in gold
Duchess of Cambridge Wearing Silver Evening Shoes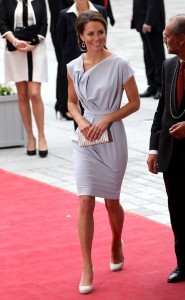 The Duchess of Cambridge looked as elegant as ever at the Royal Academy of Arts wearing a dove grey Rksanda Ilincic dove grey dress and beautiful silver evening shoes.
Grey and silver are a classic combination of style and elegance, which the Duchess of Cambridge is renown for.
Silver Evening Shoes from Sole Divas
Elegant peep toe shoes and matching clutch bag by Menbur Avance in pearl grey satin. 3.5″ satin covered heel. Adjustable elasticated buckle at the ankle for a great fit.
Simple elegant silver satin evening shoes with a peep toe & platform sole. 4″ satin covered heel. Matching bag also available. Also available in champagne & blue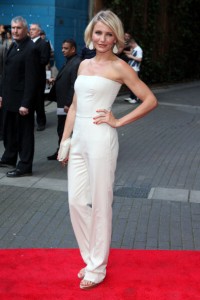 Cameron Diaz shows that reaching 40 is nothing to keep quiet about. Cameron Diaz looks better than ever in this white jump suit and flat silver evening sandals at the UK Film Premiere "What To Expect When You're Expecting".
So why not step on over to Sole Divas and check out our fabulous range of ladies silver evening shoes.
Google+