Picking a wedding dress is usually the most difficult step when preparing for a wedding. But what wedding dress styles are popular right now and which of them will fit your frame best? Read on to know more about your choices:
The princess wedding dresses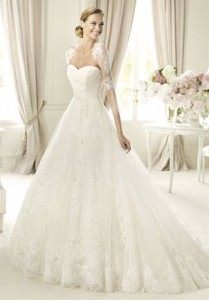 Also referred to as the A-line wedding gown, this style is perfect for almost all body types. The skirt of this wedding dress looks like a triangle or the letter A. It slims down the waists and hides big hips. So if you have got problems with those two body parts, this is the dress for you.
Column wedding dresses
This body-hugging wedding dresses are ideal for women with a well-balanced body. By well-balanced, it means their shoulders are as wide as their hips and their waist is small enough for their frame. This straight-up wedding dress usually comes without frills and laces. This very simple wedding gown is ideal for petite brides who want to look taller.
Mermaid wedding dresses
Are you lucky to possess that sexy hourglass figure? If so, then it is time to flaunt it with this kind of a wedding dress. This type hugs your body from shoulders to your hips really well. Below the hips, the gowns transform into a flattering balloon.
Ball gown wedding dresses
If you want to look like Cinderella on your wedding day, you can very well do so. Just pick this type of a gown which is perfect for brides with big hips. The extra fabric will hide your problem areas beautifully. However, this wedding gown style is designed only for tall, slender, and slim women. Petite brides and those with a fairly large frame may not find it very flattering on them.
Empire-cut wedding dresses
Small busted women will benefit much wearing an empire-cut strapless wedding gown. It comes with a high waist design that could emphasize the torso.
Google+