Part of any wedding preparation is the bridesmaid selection. And for some brides, this can be a highly painstaking process. Weddings are very solemn affairs. Bridesmaids have to be meticulously chosen to capture a wedding's very essence. To pick the right bridesmaid for your wedding, you can do the following: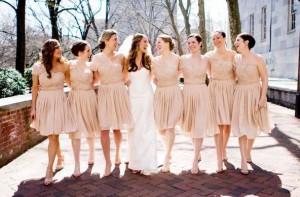 1. First, define a specific number of ladies to invite.
For very large weddings, ten bridesmaids are okay. But if it is going to be a very intimate affair, three or four is the ideal number.
2. Pick your closest friends
Every woman has a best friend. And she's the best bridesmaid you can pick. If you have more than one friend, then your problem is solved. You can choose all of them to share with you this very special day.
3. Choose your sisters or your fiancée's sisters
More than friends, sisters are actually the first candidates for bridesmaids. However, not all girls have sisters and not all brides are close to their fiancée's siblings. But always remember that no matter how your relations are, blood is always thicker than water.
4. Represent every facet of your social life.
If you're that kind of woman who is blessed with lots of friends – from college, from work, from your fiancée's relations, and even neighbours – picking which of them to assign the elite title of a bridesmaid can be tough. A good suggestion is to pick one from each group so you need not explain too much why you can't choose all of them.
5. Set up a qualifications list and ask for volunteers.
Some brides want their bridesmaid to do more than to show up in a beautiful gown on her wedding day. Some want them to assume a certain responsibility for the wedding. For example, taking care of the invitations and sending them out, choosing a location for the wedding, or looking for a band to play on that day. Then you have to have plenty of help choosing your wedding dress and bridal shoes. If you want your bridesmaid to work closely with you so you need not hire a wedding planner, then you have to pick somebody who can make the time to help you plan your big day.
If you are looking for bridesmaid shoes, mother of the bride shoes or wedding shoes, then shop online at Sole Divas and view our great selection of matching shoes and bags.
Google+